The Yardeners – Denis Scolan, Head of 2D
Meet The Yardeners – the passionate team at The Yard, who strive everyday to nurture the seeds of creativity transforming them into striking visual effects, fruitful collaborations, and unforgettable stories.
This week, we are pleased to introduce you to Denis Scolan, our Head of 2D. With a career in compositing and 2D spanning over two decades, Denis has worked with the world's most renowned VFX studios. After spending 17 years working in London, Singapore, and Sydney, he settled in Marseille, in the south of France, and joined The Yard a year ago.
Hello Denis ! Could you please explain your current role at The Yard ?
Hi there ! As the Head of the 2D department, my responsibilities encompass all aspects related to the Compositing Department. This role spans a broad spectrum of duties.
First and foremost, I am deeply involved in the technological aspects of the department. This includes enhancing our pipeline, establishing efficient workflows, developing custom tools, conducting Research & Development, formulating software strategies, and staying vigilant for emerging technologies and hardware advancements. I collaborate closely with the other  Heads of Department (HoDs) and our exceptional Dev Team to achieve these objectives.
Another crucial facet of my role involves the management of our Compositing team. I actively support and guide our talented compositing artists in realizing their full potential. This guidance includes training, advising, imparting methodology tips, and nurturing their technical, artistic, and soft skills. The primary goals here are to boost their confidence, elevate their craft to higher levels of excellence, and foster strong connections within the compositing team and beyond. To maintain team cohesion, the recruitment of new artists and the identification of emerging talents are of significant importance.
Similar to the other HoDs in the studio, I am also frequently consulted to provide support for ongoing projects. This assistance involves crew planning, facilitating cross-departmental communication, configuring show settings, ensuring quality control, and offering technical and artistic guidance.
And, of course, my door is always open to anyone who wishes to engage in a conversation.
What brought you to compositing / 2D ?
During my childhood, I was inherently drawn to various forms of artistic expression, such as drawing, painting, sculpting, and even acting. My primary sources of inspiration stemmed from comic books, cartoons, historical narratives, and movies. However,  one day, the world of special effects entered my life.
In the 1990s, I was captivated by a fantastic show called « Movie Magic », which aired on a French channel, and it immediately sparked my interest. By that time, I was already a devoted fan of franchises like Star Wars, Indiana Jones, Back to the Future, and more. Watching behind-the-scenes (BTS) footage made them even more awe-inspiring.
Around the same time, a computer found its way into our home, and I began experimenting with Paintbrush and video games. Eventually, I delved into learning 3D Studio 4 and even created my first (and last) full CG short film.
Denis's VFX film inspirations : Star Wars, Indiana Jones, Back to The Future
As time passed, I realized that the limited options for  3D schools were financially beyond my reach. Therefore, I chose to enroll in an audiovisual school in Toulouse, where I fully immersed myself in all aspects of cinema and television. This encompassed  comprehensive technology courses, practical on-set  experience, and even art history courses that delved into semiology. Those years undoubtedly marked the pinnacle of my educational journey.
During my midterm internships, I found myself torn between pursuing a career in special effects or visual effects. To explore both options, I embarked on my first internship at Excalibur, a renowned motion control and miniature company known for their work on « The City of the Lost Children. »
Subsequently, I joined Main Street, a VFX boutique affiliated with the Ecoutez-Voir group. It was there that I had the privilege of meeting a VFX compositor who took the time to explain the intricacies of his role. It was an epiphany for me. How could a job encompass all the things I loved doing? It was crystal clear—I knew what path I wanted to follow from that moment onward.
I diligently learned Avid Media Illusion from the manual and, during my internship, I had the opportunity to practice under the guidance of the compositor, who entrusted me with a project while he was away on vacation. Collaborating closely with a CG artist, I solved a problem that had persisted since the project's inception. By the end of my internship, I had achieved a significant result. A few days later, I received a phone call from the compositor, who had just returned from holidays, inquiring how I had accomplished what he couldn't replicate.
A year later, after earning my degree, I was offered another internship at the same company, which had since become a part of ExMachina following its acquisition by Ecoutez-Voir. It was a stroke of luck because this company embodied my dream in the French VFX industry. Over the course of three months, I absorbed a wealth of knowledge from these VFX luminaries. Eventually, I even had the opportunity to finalize some shots for a Tomb Raider cinematic project. At the conclusion of my internship, I received a formal job offer and a month of salary for the work I had already done! I'll forever be grateful to these incredible individuals who provided me with the chance to step into the world of VFX.
Tomb Raider V : Lara Croft's Chronicles trailer (Eidos Entertainment)
What do you find great about your department ?
The compositing department holds a unique position in our production process, as it serves as the final touchpoint before our images are sent to the DI facility for the ultimate creative grading. As a compositor, what I see on my computer screen closely resembles what the audience will experience in a movie theater, and that's  truly exciting. It's incredibly satisfying to take all the meticulously crafted elements from various departments and witness a shot transform into its ultimate form right before our eyes.

However, the significance of our department extends well beyond this final stage. We are actively engaged from the project's inception to its completion. We collaborate with every team member to bring the director's and VFX supervisor's vision to life with the utmost quality. Sometimes, we even have the opportunity to go on set and participate in previz and postviz processes.
During post-production, a critical aspect of our role is ensuring that all departments receive images in the correct color space, resolution, and timing as early as possible. This provides them with a solid foundation to begin their work.
As a compositor, one of the aspects I find most captivating is simulating the lensing effects produced by the on-set camera. This not only enhances photorealism but also infuses the image with an organic and grounded feel.
I often liken compositing to the art of crafting high-end dishes. We have an array of meticulously prepared ingredients at our disposal, and our task is to skillfully blend and cook them together with a delicate touch, never forgetting the importance of seasoning and presentation. The result is a visual masterpiece ready to captivate the audience. Et voilà !
Is there any fun sentences that you often hear or say in your job ?
I often say to my team: "Don't be afraid to ask, there is no such thing as a "stupid question", everyone as to learn at some point. »
To myself, especially during crunch times: "Always look on the bright side of life" (Monty Python)
When I take a look back at my career, I say to myself: "Deep Image Compositing is my baby"
Heard, too many times: "Fix it in Comp" (you know who you are)

What are the main challenges in compositing / 2D ?
As a compositor, mastering the multitude of techniques required for the role is a long and challenging journey that takes years to navigate. Excelling in all of these techniques can be daunting which is why teamwork plays a crucial role in knowledge sharing within our department.
Furthermore, the compositing team is widely recognized as a department of problem solvers at its core. Thanks to the flexibility it offers compared to certain rigid and lengthy 3D approaches, compositors often have numerous options to address specific issues, whether they are technical or creative challenges. Determining the best approach can be a challenge in itself, making each day in our line of work truly unique.
From a broader perspective, the main challenges faced by the compositing department often depend on the nature of the visual effect being created. Is it a visible  or an invisible effect?
In the case of invisible effects, our challenge lies in seamlessly integrating the effect into the scene to the point where it remains imperceptible. We often say that the best visual effects are the ones that go unnoticed.
Conversely, when dealing with inherently visible effects (such as scenes set in imaginary locations, the presence of non-existent creatures, or superheroes performing extraordinary feats), our challenge shifts to making these effects appear convincing. This involves adhering to the laws of physics, particularly from a photographic perspective, to ensure that the effect blends seamlessly into the narrative.
The Yard's latest projects involving Denis's team compositing work on Murder Mystery 2:
During your career, you've worked on various film genres – action films, superhero movies, sci-fi, etc. Is there a genre that poses more challenges than the others ?
Not really, I don't believe the level of challenge is inherently tied to specific film genres.
While I previously distinguished between visible and invisible VFX, what they often share is their potential complexity. The more elements in motion within a shot, the greater the complexity and challenge it presents. Additionally, if a shot involves intricate retiming processes, that certainly adds an extra layer of complexity.
Believe me, it can get quite intense !
As we're discussing films, what have been the most significant highlights of your career so far?
I've been incredibly fortunate in my career, having had the privilege of contributing to some iconic movies that I once dreamed about as a teenager. This journey has led me to beloved franchises such as Star Wars, Harry Potter, Marvel productions, « The Golden Compass » ( an Oscar-winner for Best VFX), « Mission Impossible : Ghost Protocol », and even James Bond in « No Time to Die » (for which I was nominated for Best VFX by the HPA).
I've also had the honor of working on films directed by luminaries like Tim Burton, George Clooney, Wes Anderson, Baz Luhrmann, George Miller, and Ridley Scott – opportunities I never imagined.
If I had to pick one project, it would be  « Solo: A Star Wars Story, » where I served as one of the compositing supervisors. This one ticks all the boxes for me… well almost… I never had the chance to comp the Millennium Falcon. As a lifelong Star Wars fan, it was a dream come true. The teamwork was exceptional, the imagery breathtaking, the work demanding but incredibly rewarding.
I've also been fortunate to step away from the computer screen on occasion. For example, I had the incredible experience of being on the set of « Harry Potter and The Order of the Phoenix, » primarily to capture practical FX elements (which was an absolute blast), but also, I took this opportunity to explore the different stages discreetly. I'll never forget the moment when my supervisor opened the doors to the main Hogwarts Hall. I couldn't believe my eyes, and I had to touch the walls to confirm if they were real or fake.
Another memorable adventure took place during the making of « Star Wars: The Last Jedi »,  I spent over a month on set for a complex sequence that involved motion control, motion rigging, animatronics, animated lights, and live compositing. I was even called back to the film set a second time as a VFX Supervisor for some reshoots.It was a mesmerizing experience as I marveled at the beauty of the sets, costumes, and props—I was living a dream.
However, the most cherished moments in my career aren't tied to specific projects, but rather the incredible people I've had the privilege to work with. I've met fascinating individuals from around the world, and the bonds we've formed through laughter, passion, and hard work are unforgettable. To name just a few, I've had incredible experiences with Industrial Light & Magic, FuelVFX/AnimalLogic, The Yard VFX, the VFX team of "Immortal", and the in-house one of "Asteroid City"—each holds a special place in my heart.
You've mentioned that you're involved in technological development. What are you most proud of so far? 
One achievement that I hold dear is my contribution to the early development of Deep Image Compositing technology. It began when I worked at Animal Logic on « Guardians of Ga'Hoole. » At the time, Johannes Saam was just asked to take over the first prototype (made by Chris Cooper for Nuke), which was mainly a holdout node in between two deep layers and that returned a 2D matte. I remember saying to Johannes : "why don't we stay in deep the whole time, and keep combining an infinite number of layers before returning to 2D at the end?" Since then, we held a strong belief in our ability to redevelop Chris's prototype in order to unlock its full potential that could revolutionize VFX compositing.
With persistence and countless overtime work, we embarked on an intense R&D journey, which involved few more people along the way, including Colin Doncaster, and successfully developed a complete set of Deep Nodes and a workflow for an entire CG feature animation. We even rendered a shot with full volumetric clouds in deepColor relight in Nuke, all in stereo. I believe it's safe to say I was among the very first compositors to achieve this.
Stills from Guardians of Gahoole:
Subsequently, we worked on « Prometheus, » during which we developed new custom deep compositing tools and began sharing our knowledge with artists and the broader VFX community.  As we were working with the Foundry for some time already, they invited us to present our work at the Foundry's Geek Fest at SIGGRAPH 2012. These efforts resulted in my comp team and me being nominated for Best Compositing in a feature film at the 11th VES Awards.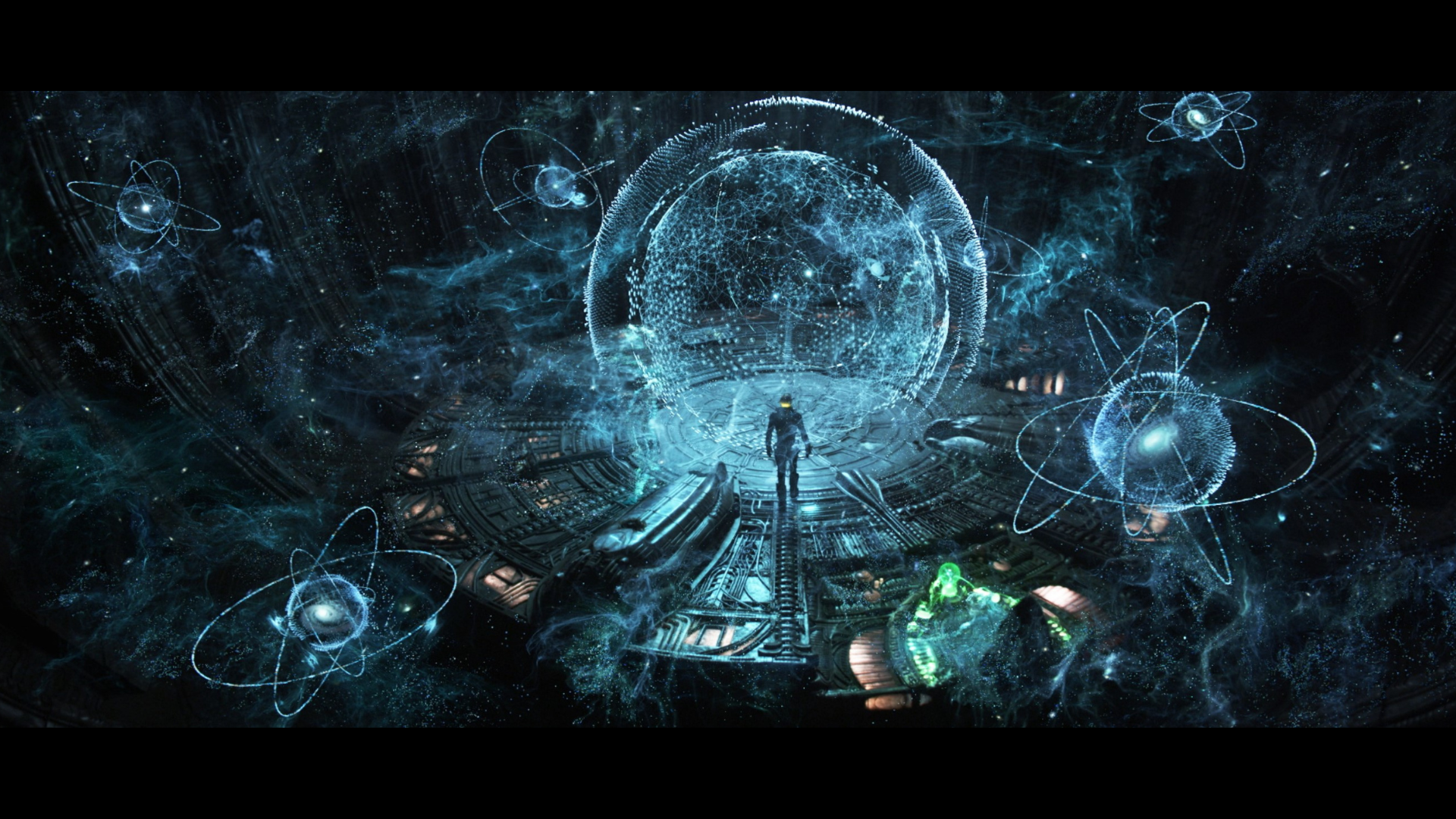 The pinnacle of our deep image journey came in 2014 when we received a Sci-Tech Award, alongside Weta and Dreamworks, for our contributions to the development, prototyping, and promotion of technologies and workflows for deep compositing. It was an incredible ride!
What major evolution do you see upcoming in compositing ?
Recently, the VFX industry has seen significant advances in real-time rendering, with ongoing transformation. . Yet,  despite these strides, it has not fully impacted VFX compositing, except for  virtual production techniques using LED screens. I am hopeful that it will in due time.
One notable development is the rapid progress in Artificial Intelligence (AI). I initially used AI for generating rough mattes, but I see the potential for compositing has expanded in the recent years. While some quality constraints persist, the technology is steadily advancing. It's essential for us to embrace this progress, explore new possibilities, and engage in research and development. Discovering innovative solutions to previously challenging problems is both exciting and invigorating.
I see  AI as a valuable toolbox, meant to assist artists and streamline their work rather than replacing them. However, AI's impact remains uncertain, and its ultimate direction is unpredictable.

Any piece of advice you'd give to students to choose compositing/2D for their career ?
Choosing a career in compositing within the VFX industry, like any other role, requires unwavering passion. It's a challenging yet rewarding field. Embrace the mindset of continuous self-challenge and cultivate your curiosity; these qualities will aid you  on the path to a fulfilling and enduring career.
For aspiring compositors, I strongly recommend adopting multiple perspectives: see the world with the wonder of a child, see it with the eye of a photographer (for aesthetics and image semiology), approach it as a philosopher (to seek meaning), and examine it like a scientist (for realism). Develop a cinematographer's mindset; don't be just an artist at a computer.
Remember, expertise with a compositing software alone does not make you a complete compositor. The software is just one tool. Understanding how images work and your goals with them is crucial. Think of it like driving a car : knowing one specific car is insufficient; you need the  skills to drive any car and to read any type of map to reach your destination.